I.K.F. Amateur Kickboxing Event.
--------------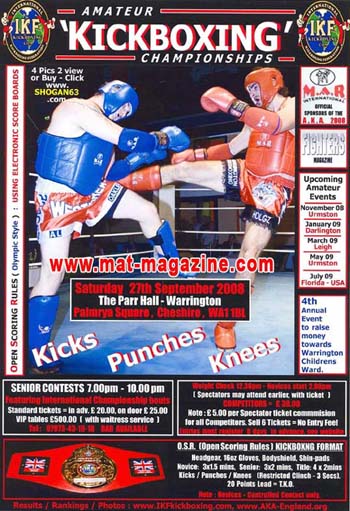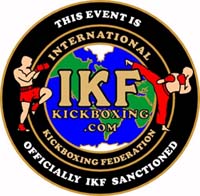 WHEN: Saturday 27th September 2008.
WHO : Warrington Kickboxing Studio & Diamond Promotions.
WHERE : The Parr Hall, Warrington Cheshire.
WHAT: IKF Amateur Kickboxing - O.S.R. Format.

IKF Representative: Dave Eckersley.

IKF Referee: Chief Craig Booth, Assistant Referee's Chris Heath and Martin Sweeney.

IKF Chief Judge: Pele Nathan.
IKF Judges: ( Working on a rotation ) : Dave Eckersley, Mike Carr, Robbie Harris,
--------------------Rhys Edwards, Graham Sayer, Justin Hassell and Matt Castle.

IKF PROMOTER: Mr. Neil Holden.

3 Headline bouts...

I.K.F. Amateur O.S.R. Kickboxing - Britsh Middleweight title ( DEFENCE ) and
I.K.F. Amateur O.S.R. Kickboxing - Commonwealth Middleweight Title ( DEFENCE ).

I.K.F. Amateur O.S.R. Kickboxing - British Cruiserweight title ( DEFENCE ),
I.K.F. Amateur O.S.R. Kickboxing - English Light-Welterweight title ( DEFENCE ),

3 Chief Support bouts...
I.K.F. Amateur O.S.R. Kickboxing - British Light-Cruiserweight title,

I.K.F. Amateur O.S.R. Kickboxing - British Bantamweight title,
I.K.F. Amateur O.S.R. Kickboxing - English Middleweight title,

------------------------------------------------------------------------------------------------------------------------------------

Saturday 22nd September 2008 was the date A.K.A. England in partnership with Warrington Kickboxing Studio ( www.warrington-kickboxing.com ) staged the fifth event of the 2008 season. The venue for this competition was THE PARR HALL, in Warrington, Cheshire.

This I.K.F. sanctioned amateur kickboxing competition was conducted under the I.K.F. Kickboxing format known as O.S.R. ( Open Scoring Rules ). This is based upto Olympic Style Rules as seen in Olympic Amateur Boxing, and features 'Open Scoring' using electronic score boards.

All the striking techniques and methods are allowed as is used in the professional Kickboxing division from Japan, known as K-1 , which allows Kicks, Punches and Knees - with restricted clinch holding. This combination makes for very fast and exciting contests, yet under very safe conditions for the participating athletes.

The O.S.R. rules are proving very popular now - with even more schools in attendance at this event, as more athletes look to compete in a safe competition format.

In the week leading upto the event, which had a maximum capacity for 30 bouts ( 60 athletes )
over 110 entries had been submitted by people wishing to compete on the event!
Of particular attraction to the O.S.R. format is the 'Outclass' rule, that ensures an athlete is protected form taking too much punishment.

This comes into effect through the 'Open Scoring' on the electronic scoreboards, and should an athlete be losing to an opponent by 20 points or more a contest is stopped due to 'Outclass'.
The top of the billing were no fewer than four Championship title defences! Something rarely seen in the Professional ranks, especially as two of them were in fact the second defences by the champions!

This competition was organised thanks to the support of the official 2008 sponsor of the A.K.A. England Circuit, one of the worlds leading martial arts equipment suppliers M.A.R. International (www.qualitymartialarts.com).

Everyone that was involved in this event would like to thank Mr Ali proprietor of M.A.R. International for his support, as well as Steve Fossum, the president of the International Kickboxing Federation.




Pictures from the event - Paul Quayle ( Red ) vs Carlos Tait ( Blue )

------------------------------------------------------------------------------------------------------------------------------------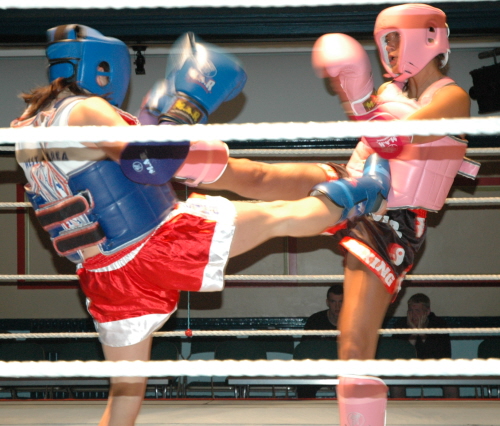 Pictures from the event - Rebecca Slamin ( Pink ) vs Eve Chesterfield ( Blue ) show that Kickboxing is not just for boys!

------------------------------------------------------------------------------------------------------------------------------------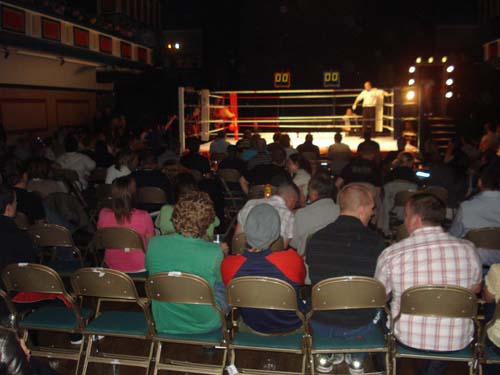 Pictures from around the Parr Hall.

------------------------------------------------------------------------------------------------------------------------------------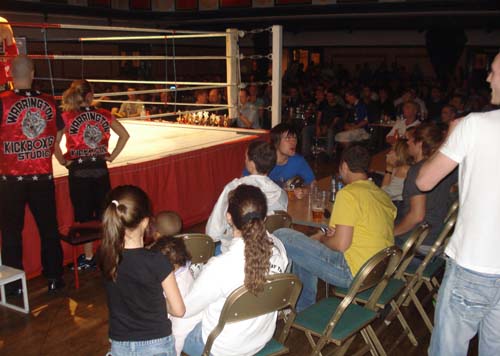 Pictures from around the Parr Hall.

------------------------------------------------------------------------------------------------------------------------------------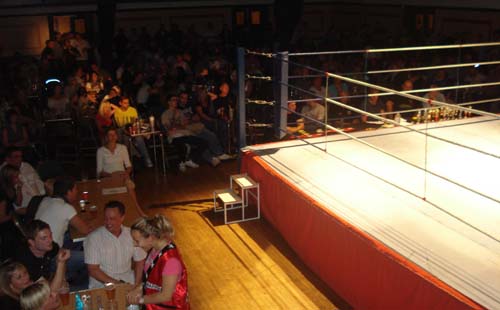 Pictures from around the Parr Hall.

------------------------------------------------------------------------------------------------------------------------------------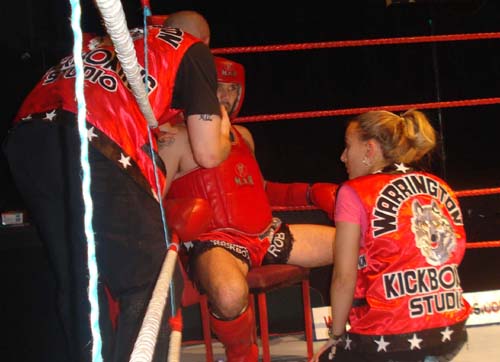 Warrington Trainer - Mark Matthews working the corner.

------------------------------------------------------------------------------------------------------------------------------------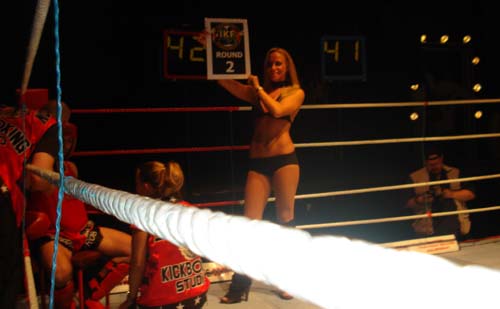 The popular ringcard girl - who was back by popular demand!

------------------------------------------------------------------------------------------------------------------------------------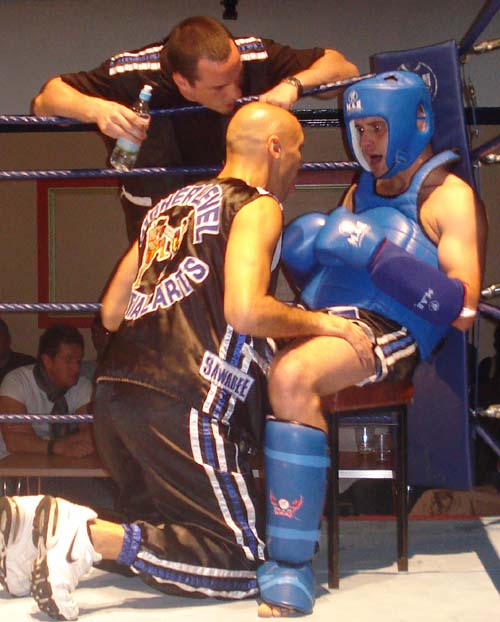 Urmston Trainer - Lee Green working the corner.

------------------------------------------------------------------------------------------------------------------------------------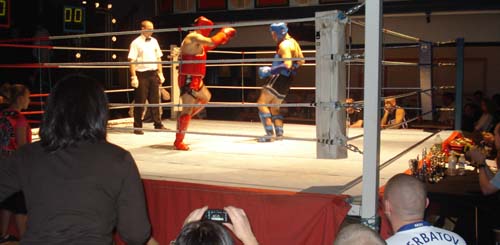 Amateur Action begins!

------------------------------------------------------------------------------------------------------------------------------------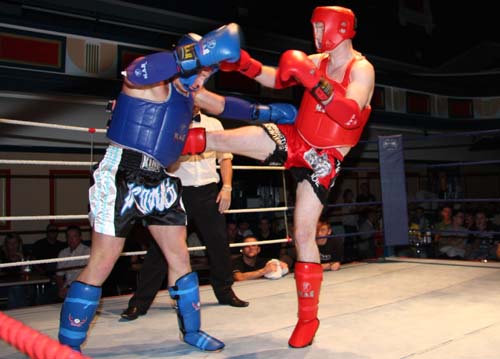 More Amateur Action!
------------------------------------------------------------------------------------------------------------------------------------

---------Main Bouts
I.K.F. CHAMPIONSHIPS :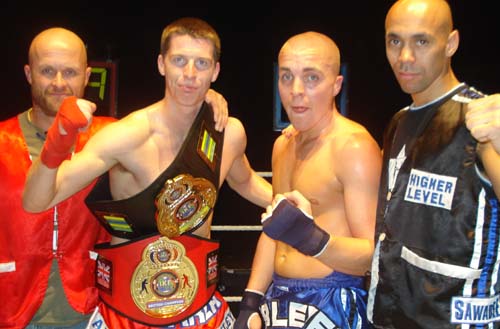 IKF Amateur British and Commonwealth Middleweight Titles - 'DEFENCE':
DEFENDING CHAMPION - Richard Callaghan - ( Urmston - Lee Green ) - 25
CHALLENGER - Randy Savage - ( Cornwall - Al Oakley ) - 49

------------------------------------------------------------------------------------------------------------------------------------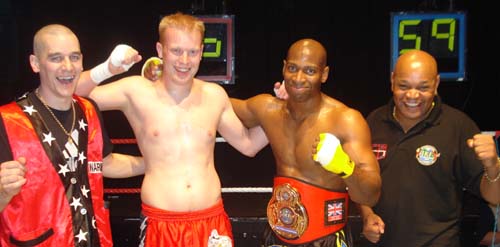 IKF Amateur British Cruiserweight Title - 'DEFENCE':
CHALLENGER - Paul Quayle - ( Warrington - Mark Matthews ) - 26
DEFENDING CHAMPION - Carlos Tait - ( Altrincham - Pele Nathan ) - 59

------------------------------------------------------------------------------------------------------------------------------------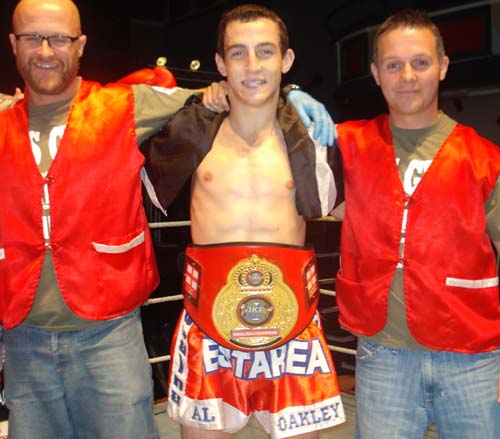 IKF Amateur English Light-Welterweight Title - 'DEFENCE':
DEFENDING CHAMPION - Matthew Murt - (Cornwall - Al Oakley )
CHALLENGER - Daryl Ellis - ( Warrington - Mark Matthews )

------------------------------------------------------------------------------------------------------------------------------------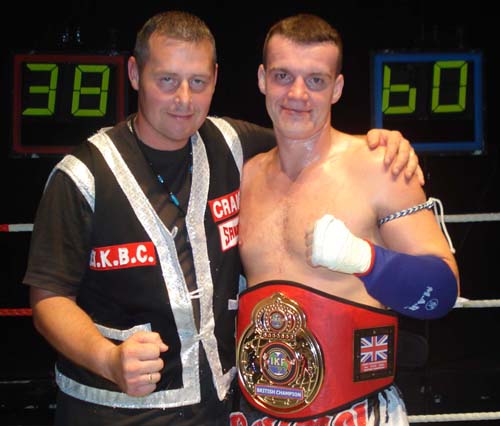 IKF Amateur British Light-Cruiserweight Title:
Ste Martin - ( Warrington - Mark Matthews ) - 38
Gavin Rogerson - ( Wigan - Craig Brown ) - 60

------------------------------------------------------------------------------------------------------------------------------------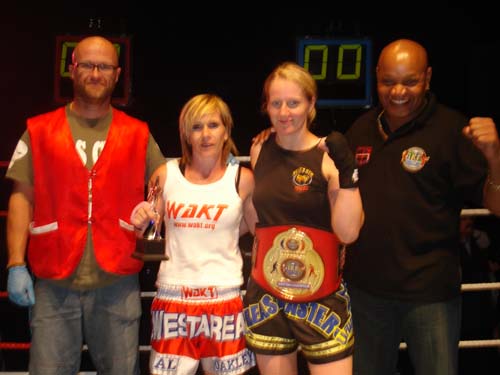 IKF Amateur British Bantamweight Title:
Tracey Richards - ( Cornwall - Al Oakley ) - 38
Lindsey Holmes - ( Altrincham - Pele Nathan ) - 69

------------------------------------------------------------------------------------------------------------------------------------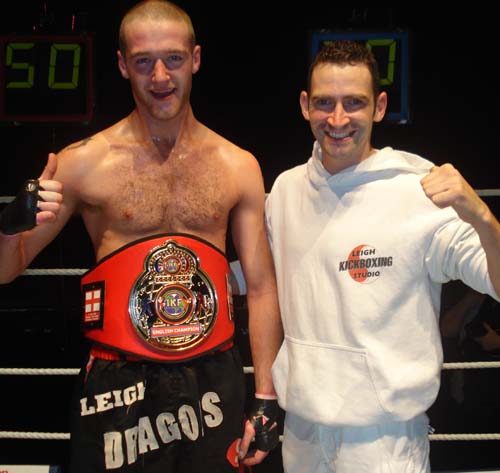 IKF Amateur English Middleweight Title:
Matt Guy - ( Warrington - Mark Matthews ) - 50
Danny Weir - ( Leigh - Dave Eckersley ) 70

------------------------------------------------------------------------------------------------------------------------------------

Middleweight Division ( 75.0 Kg Max )
Rob Lightburn - 114
Adam Thornton -126

Super-Heavyweight Division ( +97.7 Kgs Max )
John Paul Emanu - 50
Artur Mowak - 23

Cruiserweight Division ( 88.6 Kgs Max )
Jason French - 35
Ged Coppull - 61

Featherweight Division ( 57.7 Kg Max )
Myles Fleming -
Sean Smith -

Light-Middleweight ( 72.3 Kgs Max )
Danny Garth - 75
Francis Monslave - 35

Light-Cruiserweight ( 84.5 Kgs Max )
Joe Holman - 43
Andy Cairns - 19

Super-Middleweight ( 78.2 Kgs Max )
Jocelyn Tomlinson - 107
Roy Glyn - 131

Ladies Middleweight Division ( 75.0 Kg Max )
Dawn Harden - 77
Sophia Thompson - 108

Super-Welterweight ( 69.5 Kgs Max )
Gary Brown - 62
Frank Collins - 90

Ladies Welterweight Division ( 66.8 Kg Max )
Angela Atkinson - 84
Agnieszka Drozdzik - 59

Middleweight Division ( 75.0 Kg Max )
Peter O'Neil - - 80
Richard Marshall - 103

Super-Middleweight ( 78.2 Kgs Max )
James Stanley - 84
Aaron James - 50

Middleweight Division ( 75.0 Kg Max )
Adam Dugdale - 35
Adam Thornton - 14

Heavyweight Division ( 97.7 Kgs Max )
Dave Buck - 111
Andy Morgan - 112

Welterweight ( 66.8 Kg Max )
Dan Ross - 80
Ste Winstanley - 99

Cruiserweight Division ( 88.6 Kgs Max )
Ste Rimmer - 41
Greg Tabner - 14

Super-Heavyweight Division ( + 97.8 Kgs )
Phil Coogan - 25
Nigel Godfry - 50

Heavyweight Division ( 97.7 Kgs Max )
Phil Bredbere - 60
Jonathan Williams - 57

Light-Heavyweight Division ( 81.3 Kg Max )
Darren Cooper-Smith - 83
Anthony Gunn - 58

Light-Middleweight ( 72.3 Kgs Max )
Tony Bowker - 46
Graeme Wilkinson - 21

Super-Middleweight ( 75.1 Kg - 78.2 Kgs )
Mark Sweetman - 88
Kyle Walker - 116

Super-Welterweight ( 69.5 Kgs Max )
Adam Gough - 112
Matty Cooper - 102

Bantamweight Division ( 53.2 Kg - 55.4 Kg )
Dan Church - 107
Jordan Thirsk - 87

Ladies Super-Middleweight Division ( +75.0 Kg Max )
Cath Stroud - 54
Tina Bigg - 32

Bantamweight Division ( 53.2 Kg - 55.4 Kg )
Rebecca Slamin - 67
Eve Chesterfield - 46

Light-Cruiserweight ( 84.5 Kgs Max )
David Corless-Smith - 53
Mick Prince - 30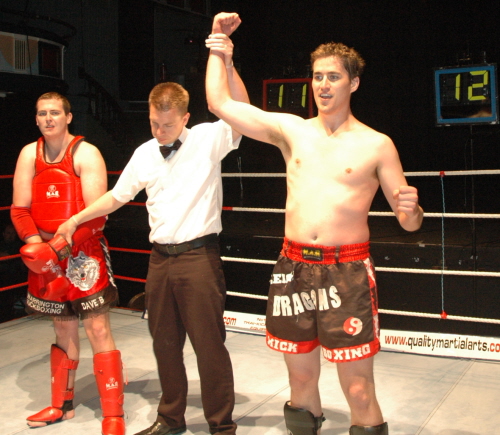 Pictures - Above : Andy Morgan get his hands raised after a very close contest, just edging out the win with a score of 112 to 111!

------------------------------------------------------------------------------------------------------------------------------------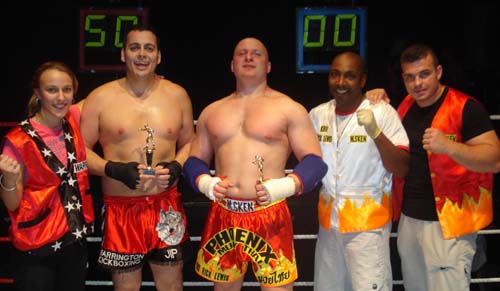 Pictures - Above : The Super-Heavyweights - Winner John-Paul Emanu, from Warrington, posing for pictures with his Polish opponent Artur Mowak - who is trained by former Professional British Champion Richard Lewis.

------------------------------------------------------------------------------------------------------------------------------------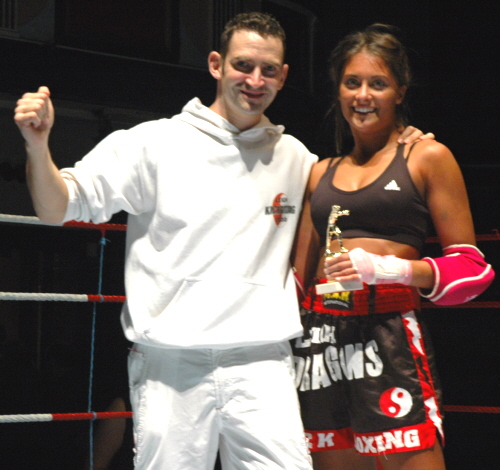 Pictures - Above : The Ladies - Winner, Rebecca Slamin, celebrates her result with her trainer Dave Eckersley.
------------------------------------------------------------------------------------------------------------------------------------


Further Information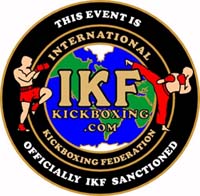 click the IKF logo.








---------------------------------------------------------------------------------------------------------------------------------------