For those that do want it, and are willing to train at a more serious level, we offer the an 'ADVANCED TRAINING PROGRAM', developed exclusively at the Warrington Kickboxing Studio.
This is where a Student trains a minimum three times a week Kickboxing, and also runs three times a week on alternate days to their Kickboxing. Training no less than six times a week, with just one rest day.
Photo : Michelle Preston ( World Champion ), Chris Cronin ( British Champion ) and Dave Leffler ( British Champion ).


The people who have decided to enrole on this program are then entered every two months into a Belt Grading and an Amateur Competition.
This very unique system that we use for these individuals, once they pass their first Belt ( See Gradings ), is called Cycling.
Four Weeks intense Fitness-Training & Sparring Skills training which then peaks with an Amateur Competition.
This would is then followed by four weeks Technique & Skills training which is then concluded with a Belt Grading Assessment.
In total an 8 week program which gives an individual a short term goal, that although is not easy, is attainable, and once completed leaves a great sense of achievement.
If a Student successfully follows this regime it is usually around 18 months that a student can pass the prestigious Senior Grade of 'BLACK- BELT'. By which time they would have competed several times, passed all their required exams and have the Certificates and Trophies to show for their achievements.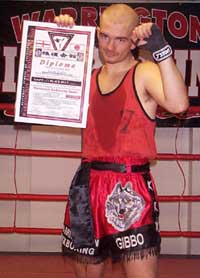 At this point, with the skills and knowledge that they have now attained through the
Wolf-Gym's Black Belt Kickboxing program they could pursue the path of either Professional Competition with the aim of one day becoming a Professional Champion, or they could even start training to become an Instructor themselves!

NOTE:
Although you are reading about the Wolf Gym's 'Advanced Training Program', and about Gradings and Competitions, none are compulsary. Many of our members are just happy to train for Fitness and Self-defence purposes and no matter which area that you choose to pursue your Instructor will give you 100% support.
However, most Martial Arts Schools do not offer both Gradings and Competitions or indeed the Advanced Training Program, and this should considered when choosing a School to join.
Although you may initially feel that you would just be happy training without ever Competing or Grading, should you start to develop your skills to a very good level, at a later date, maybe after several months, you thoughts may change on this and you may then wish to test yourself.
If unfortunately you have enrolled at a club that does not offer the above, then obviously you could not then pursue these areas.
That is why Warrington Kickboxing Studio, is setup to cater for everyones needs, be it Fitness, Self-Defence, Gradings or Competition.
Any further questions? Its not a problem, I will be more than pleased to help you solve them.
Just email : Neil@warrington-kickboxing.com



________________________________________________________________

Click below to view ' YOUTUBE ' Video Clip of some technique training on the pads, featuring Kicks, Punches, Knees and Elbows!.

Pad Training Round 3 of 5

Pad Training Round 4 of 5

Pad Training Round 5 of 5

_______________________________________________________________