| | | |
| --- | --- | --- |
| | | |
Many years ago Jigaro Kano, a Japanese Instructor of Judo invented the system of using 'coloured belts' to show the level, ( Rank ), of a student as they progressed during their martial arts training. This proved to be a very practical method of showing a students progress and was later adopted by many other Martial Art Acadamies and Martial Art Styles.

Using the colour of a belt to show rank was a practical idea that came about as should someone have a uniform and a belt that they wore during their Martial Arts training, over several years that belt would become darker and darker through age, wear and tear. Hence a beginner wearing a brand new uniform would wear a new 'White belt' and a senior student with many years of experience would train while wearing an old 'Black belt'.

Today the coveted BLACK BELT is a world renown Martial Arts qualification in many different styles such as Judo, Karate, Ju-Jitsu, Taekwondo and Kickboxing.

A training goal to aim for, and a long time achievement to accomplish.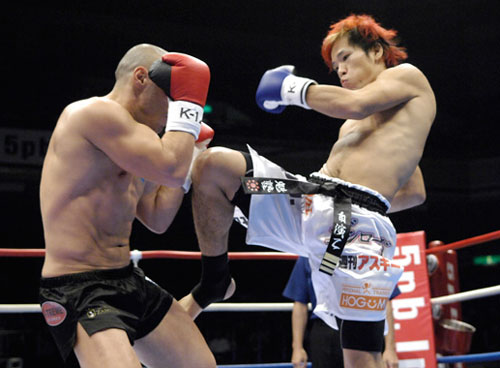 PHOTO :

A 'K-1' ( Japanese Kickboxing ) match. Delivering a "Hiza-Geri" Knee-Kick, the Kickboxer in the white shorts is a high ranking black belt..





The Wolf-Gym conducts six Pressure-Testing days for adults each year on a bi-monthly basis. These Belt Gradings are held in February, April, June, August, October and December - but only for those that are eligable to grade.

During these exams students demonstrate their Techique skills, Sparring skills, Fitness levels, and Knowledge to a pre-set level according to each specific rank. This then gets increasingly harder as the grades are progressed through.

Regular Pressure-Testing ( Grading exams ), help to vastly improve a students skills, knowledge and confidence as well as highlighting any areas requiring specific improvement.

Most members upon starting at Warrington Kickboxing, never intend to Grade, or to compete. Only to find that having a training goal, such as the Wolf-Gym's Black belt programme helps them progress much quicker than they would do otherwise.


All of the Students that do successfully Grade at Warrington Kickboxing Studio receive a Certificate, and a coloured belt to show their rank and level of personal achievement.


The grading syllabus at the Wolf Gym is a very structured training program. This guarantees that a Student, over their training career, will learn all aspects of Kickboxing as both a Martial Art system for Self-Defence and as a Combat Sport for Competition.

The Wolf-Gym's syllabus covers Japanese Kickboxing ( K-1 Rules ), Thai-Kickboxing ( Muaythai Rules ) and Cage-Kickboxing ( M.M.A. Striking ).

Across all the martial arts systems, no matter the style studied, the students that take regular pressure-tests / grading assesments are always much more skilled than those who do not!




A Small fee is charged when Students Pressure-Test for their Belt Grade, with the exception of the Black Belt grade - which is £FREE!.




No Instructor benefits financially from the Gradings, as any money raised is spent specifically on the Studio's facilities. This ensures that the Academy always has the highest standard of equipment for its members.




NOTE #
Some Martial Arts Centres quickly grade students to Black Belt simply, for the financial gain - charging upwards of £ 300.00 per Black belt exam.
This is not true of Warrington Kickboxing Studio, as we do not, and have never charged a fee for the Black belt exam.


Additionally, a member of Warrington Kickboxing Studio will only be invited to take their Black Belt test once they are ready, and not for financial gain.

This ensures the intergrity of the Academy, the integrity of the Grading Syllabus and the standard of the Black Belts that are certified from the Wolf-Gym.

Today, the World's number 1 promotion for Combat-Sports is the Mixed-Martial-Arts promotion the U.F.C.

Almost all of the U.F.C. Champions, fighters such as Anderson Silva, Lyoto Machida, George St-Piere and Benson Henderson hold Black Belts.




Photo's:

Former UFC Middleweight Champion,
Anderson Silva is a highly regarded Black Belt.



Photo's:

Former UFC Middleweight Champion,
Lyoto Machida is a highly regarded Black Belt.



The reason that so many UFC fighters hold Black Belts in their respective styles, is that training in the Martial Arts, towards and then gaining a Black Belt gives a person a solid foundation in technical skills and fitness.





Photo's:

Former UFC Welterweight and Middleweight Champion
George St-Pierre is a highly regarded Black Belt.





If attaining a Black Belt is good enough for some of the World's leading Combat-Sports athletes that compete in the UFC, then it could very well be good enough for you.





Photo's:

Former UFC Lightweight Champion, and leading BELLATOR MMA contender Benson Henderson is a highly regarded Black Belt.



Photo's:

Poster for BELLATOR MMA event in Japan featuring
Chandler ( Black Shorts )
-v-
Henderson ( White Shorts with Black Belt )





Just as the symbol of an highly skilled soldier is the Green Beret...

... the symbol of an highly skilled Martial Artist is the Black Belt.

Not all Martial Arts Academies give their members the option of training towards the goal of achieving their Black Belt, but if this is something that interests you, The Wolf Gym will help you to achieve this goal.







CHILDREN'S GRADINGS:
-------------------------------------------------

Children on our Junior-School Kids program, ( aged 6 to 11 ) are promoted through their Belt Grades via an awards system.

However when they progress from the Junior-School Kids program and move onto the High-School-Classes, ( ages 11 to 16 ), they then begin following the Adult syllabus, from White Belt.

Members on the High-School Kids program, are referred to as Cadets.

NOTE:

Wolf-Gym / Warrington Kickboxing does not advertise children as if they were Adult level Black Belts, and always states that they are 'Junior Black Belts'.

Any Martial Arts Academy that advertises Junior Black Belts as being equivilent to Adult Black Belts cannot have a reputable syllabus and should be avoided.

| | | |
| --- | --- | --- |
| | | |

PHOTO :

Warrington Kickboxer, Bradley Hodgkinson, a W.K.A. Junior Kickboxing Champion and holder of the 'Junior' Black Belt.







INSTRUCTOR GRADES


In many Martial Art Academies, a RED BAND is the Insignia used to denote the rank of _ 'INSTRUCTOR'.

This system is also used by the Wolf Gym, you will see this Instructor Insignia, ( RED BAND ), worn across one end of the Black Belt of the trainers.

The Dan Grade system then follows that...

A Level One Instructor, has one Red Band on their belt.

A Level Two Instructor has two Red Bands on their Belt.

A Level Three Instructor has three Red Bands on their belt, etc...
See the Photo below.....
A senior student of any Martial Arts style can achieve through examination a Black belt. However at the Warrington Kickboxing Studio, ( as indeed it should be with other Martial Arts Centres ), this alone does not automatically qualify someone to teach!
Our belief is that an Instructor does not learn the required teaching skills purely through academic exams, ( Grading tests ), but also through experience via a time served apprecticeship.

Many of the worlds leading craftsmen learned their skills through a working apprenticeship, rather than only in the class room. A 1st Dan Black Belt member at the Wolf-Gym wishing to become an Instructor, must pass a 2 year probation period succesfully as an 'Apprentice Instructor', attached to a Senior Instructor.

During this time they may help to teach classes, whilst under the strict guidance and supervision of a Senior Instructor. Should they show adequate teaching skills over a course of two years, then they will be promoted to the rank of Instructor Level 2, ( 2nd Dan ).

___


A Level 1 ( 1st Dan ) Instructor is an 'Assistant Instructor'.

A Level 2 ( 2nd Dan ) Instructor is a 'Fully Qualified Instructor', who can now teach classes independently.

___

It takes 3 years training to complete the Black Belt syllabus and to then be promoted to Level 1 ( 1st Dan ) Black Belt.

It then takes a further 2 years training as & teaching as an 'Assistant' Instructor to gain the promotion to Level 2 ( 2nd Dan ) Black Belt.

Therefore overall, it takes approximately 5 years to become a fully qualified Kickboxing Instructor ( 2nd Dan Black Belt ) from a reputable Academy.







Further Instructor Levels, ( Ranks ), are awarded upon the 'T.S.R,' criteria.

T.S.R. is the 'Time-Served-Recognition', of an Instructors years of dedication and contribution to the sport.

T.S.R. criteria, is the most genuine method for Instructor Ranks, as it is based specifically upon the date the were originally certified as a Level 1 Instructor.

People looking to find a qualified Trainer for themselves, or their children, can be confident of the experience of the Instructor that has been promoted via T.S.R.

See the following criteria below:-




NOTE:

It is extremely uncommon to find Instructors of such high ranks as those of 9th or 10th Dan in any Martial Arts system, as many are either no longer involved in the Martial Arts after more than fourty years, or they have unfortunately passed away.

| | | |
| --- | --- | --- |
| | | |

People holding the ranks of 8th, 9th, 10th Dan are generally referred to as being Grand Masters or Professors in their style such is their knowledge and experience.

The Japanese name for a Master Level Instructor is 'Shihan', and for a Grand-Master Level Instructor it is 'Dai-Shihan'.








WOLF GYM : BLACK BELT - MEMBERS REGISTER

The Warrington Kickboxing Studio was opened on the 1st August 1994, and since then, over 25 years, the Martial Arts Academy has had more than 50 adults complete the grading syllabus at the Wolf Gym and be awarded their Black Belt in Kickboxing.

Mark Cooper

Dave Rathbone, English Champion
Julie Fletcher
_

Mike Houghton

Craig Pemberton

Julie Aldis
Eve Armitage
Amy Armitage

Dave White
Steve Atherton
Rob Houghton

Dave Leffler, British Champion
Andy Glover, Area Champion
Adam Giblin

Mark Woods, Area Champion

Andy Morley

James Young

Lee Sanderson, Area Champion

Phil Williams, British Champion

Ryan O'Donnell, English Champion

Andy Lane, English Champion

John Emanu, British Champion

Steve Martin

Matt Bowen

Simon Longden, British Champion

John Papworth

Andy Harris, British Champion

Phil Dale, British Champion

Paul Duckworth, British Champion

Rachael Wolfenden, English Champion

Steve Brotherston

Nick Griffiths, British Champion
Nathan Joyce, English Champion

_

Joe Miller

Mike Eastup, British Champion

Paige Farrington, British Champion

Martin Sweeney

Graham Sayer, World Champion

Paul Burrows

Matt Sumner

Michelle Preston, World Champion

John Glover

Paul Quayle, British Champion

Rhys Edwards, British Champion

Chris Heath, World Champion

Sedat Killic

__

Phil Fitzpatrick, English Champion

Ryan Curtis

Kieron Bennett, English Champion

Jack Salt, British Champion

Grant Sharples, M.M.A. Champion




| | | |
| --- | --- | --- |
| Pict: Grant Sharples, one of our M.M.A. Champions, who is the most recent edition to the Black Belt ranks at the Wolf-Gym. Pictured with his Certificate, Black Belt, Samurai Trophy and his Title Belt | | |




'Muay-Boran' is the collective name for the traditional martial art systems of Thailand, that lead to the development of the combat sport known worldwide as
Thai-Kickboxing ( Muaythai ).


Photo:

Grand-Master Sken, Neil Holden's Muaythai and Muay-Boran teacher, wearing the traditional Muay-Boran uniform which consists of Headband ( Monkol ), Armbands ( Prajeet ) and Belt-Sash ( Paa Kamaa).






The Wolf-Gym continues with the tradition of wearing coloured Belts as part of the uniform of its members. These are coloured to show a students level as they progress through the Black Belt grading syllabus.





Please take a few minutes to visit each page of this website for lots of information about the Wolf Gym - Warrington Kickboxing Studio, and also about Kickboxing the Combat Sport & Martial Art.

To book in and activate £FREE trial session, please send a text stating "KICKBOXING ENQUIRY :"

and then add your

FULL NAME, your AGE and your EMAIL ADDRESS.

Please send the text to 07973-43-18-18, and a member of our team will contact you.