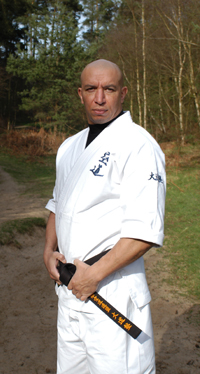 Shihan ( Master )
Lee Hasdell
Shin-Sen-Juku
( 8th Dan - B.C.K.A )

Lee Hasdell was born 13th December 1966, in Northampton, England.

He is a former Mixed-Martial-Arts competitor and Kickboxer and is known as a pioneer for British M.M.A. as he promoted the first professional mixed martial arts events in the UK, the first being held in 1997.

His career as a professional fighter has seen him win British Kickboxing Championships, M.M.A. and Grappling titles as well as a Grandprix Tournament
( 3 bouts in a single night ).





Resume and competition highlights:

Hasdell began martial arts in 1979 at the age of 12. He started training taekwondo, before taking up boxing as well. Hasdell later started karate as he felt that it was more of a mixed style that suited his stand up. After winning a number of local tournaments he decided to study full-contact Karate.

In 1985 when he was 18 he started weight training and kickboxing. In 1987 he moved to Milton Keynes from Northampton where he began training in Thai-Kickboxing ( Muaythai ) and began his competitive Amateur career.

In 1991, Lee went over to study in Holland at the Internationally reneown Chakuriki dojo in Amsterdam. This is where Lee was first introduced to Japanese Kickboxing and Kyokushin methods. Lee's approach to his Kickboxing training and tuition was transformed by the experience. This then became his foundation for his Mixed martial arts style.

During 1991, Hasdell captured the British Super-Middleweight title defeating and the British Light-Heavyweight title.

October 1994, Hasdell made a move to Cruiserweight, defeating his opponent by a first round Knock-out.

Lee was invited to Japan to train at the Seidokaikan the HQ for the K-1 organisation, he then returned to Japan on 3 September 1995 to fight at K-1 Revenge II. Hasdell was one of the first English fighters to compete on a K-1 event.

After fighting at K-1 Revenge II in September 1995, Hasdell witnessed Rings rules and Shootfighting bouts on the same card. This marked a turning point in his career. upon returning to the UK, Hasdell began cross training in Mixed-Martial-Arts.
On 15 October 1995, Hasdell promoted a Kickboxing event in Milton Keynes, England. The main event featured Lee Hasdell against American Free fighter, Boston Jones in a non-sanctioned Shootfight. The bout was billed as the first Ultimate Shootfight in Britain. Hasdell won the fight by knockout in the second round.
20 April 1996, Hasdell entered the Fenasco Oktagon Challenge, an eight man Shoot Boxing tournament held in Milan, Italy in front of 15,000 spectators. The tournament featured eight fighters from all over the world, representing eight different martial arts, Hasdell represented the art of Freestyle fighting ( M.M.A. ). Hasdell went through to the final with two knockouts over American Scott Dobbs and Italian Judo champion Paulo Di Clemente. In the final he faced and defeated Dutch Kickboxing legend Andre Mannaart by decision to become the new World Fenasco Shoot Boxing champion.

This victory raised his profile and Fighting Network RINGS president Akira Maeda offered Hasdell a contract as a professional shootfighter. Hasdell was with RINGS. the leading Japanese Mixed-Martial-Arts promotion before PRIDE FC, for six years.

On 4 April 1997, Hasdell made his Mixed martial arts debut in Japan at RINGS: Battle Genesis. He defeated American fighter Sean McCulley within four minutes by Guillotine Choke.
On 5 October 1997 at Total Fight Night held in Milton Keynes, England. Hasdell defeated Dutch fighter Peter Dijkman for the UTF Shootfighting Superfight title.
On 7 March 1998, Hasdell fought and defeated Sander Thonhauser in a Vale Tudo match at Night of the Samurai 1. This fight was for the vacant TFF Vale Tudo Superfight title.

Hasdell then fought Hiromitsu Kanehara for thirty minutes in Japan on 29 May 1998. Hasdell lost on points.
On 7 June 1998, hasdell fought Dutch fighter Dave van der Veen in Holland. Hasdell was knocked down in the first round before forcing Dave van der Veen to make two rope escapes. Hasdell then won the match by knockout in the second round.
Hasdell was promoted to the Shooter category and was given the nickname The Gatekeeper, meaning if a fighter from another organisation wanted to join RINGS they had to beat Hasdell first.
On 21 September 1998, Hasdell lived up to his name when he knocked out UFC Japan Tournament Champion Kenichi Yamamoto after eleven minutes.

On 20 November 1998, Hasdell began what would be a trilogy of fights with Japanese fighter Yasuhito Namekawa. Their first confrontation was held in Osaka, Japan and after twenty minutes, it ended in a draw.
Hasdell's second bout with Yasuhito Namekawa was held on 23 January 1999 in Tokyo, Japan. Hasdell lost on points after receiving a yellow card for an illegal punch during the fight. Hasdell dominated the stand up and was close to knocking Namakawa out in the dying seconds, leaving him with a bloody nose. Although Namakawa was the winner of the match, he had to be helped out of the ring. Their first two bouts in Japan went the full twenty minutes, without a break.
Their third and final fight was held in Milton Keynes, England at Night of the Samurai 3 on 7 March 1999. Hasdell was trailing by two points before knocking Namakawa out with a knee to the face at 5 minutes and 55 seconds of round 1.
Hasdell returned to Japan on 23 April 1999, defeating Ryuki Ueyama and submitting Ricardo Fyeet four months later.
On 15 September 1999, Hasdell fought Satoshi Honma in Tokyo, Japan. After twenty minutes, the bout ended in a draw. The following month, Hasdell faced Dave van der Veen for a second time, this time in Milton Keynes, England. Hasdell won by Armbar at 1:47 of round one to retain his TFF Shootfighting title.

On 16 April 2000, Hasdell made his return to Kickboxing at the K-1 UK Battle of Britain held in Birmingham, England. Hasdell fought WKA World Heavyweight Kickboxing champion Simon Dore in a non-tournament fight. Hasdell won by flying-knee-kick at thirty seconds of round three.

On 21 January 2001, Hasdell won the Kamon European Brazilian Jujitsu tournament in London.
Later In 2001, Hasdell was given an award from Akira Maeda in Japan for his hard work, dedication and contribution to the martial arts worldwide.
On 20 October 2001, Hasdell fought Bulgarian Georgi Tonkov at RINGS: World Title Series 4. Hasdell won the match with a flying knee at four minutes and twenty-two seconds of round one.
This bout was the first round, Quarter-Final of the Absolute Class Tournament 2001. In the Semi-Final of the tournament, on 21 December 2001, Hasdell fought and lost to M.M.A. legend Fedor Emelianenko by Guillotine Choke.

The RINGS company eventually folded in 2002 due to the growing success of Pride FC, making this Hasdell's final fight for RINGS.

On 24 April 2004. Hasdell, now at Light-Heavyweight, around 10 kg lighter than his fighting weight in RINGS, returned to competition. His fight was against Japanese fighter Hiroyuki Ito at Pain and Glory held at the National Exhibition Centre in Birmingham. Hasdell won by KO within thirty two seconds of round one.

In February 2008, Lee Hasdell became the first Kudo (also known as Daido Juku) black belt in the UK, under Grand Master Azuma.

On 18 November 2008, Lee Hasdell achieved his second dan black belt in Kudo.
On 23 May 2009, Lee Hasdell took part in the U.M.A. International Open Groundfighting and Grappling Championships. Hasdell achieved Gold in the open weight masters division.

Kickboxing titles:

British Super-Middleweight Full-Contact champion (W.K.A.)

British Light-Heavyweight Thai Boxing champion (B.I.K.M.A.)

British Light-Heavyweight Free Style champion (B.I.K.M.A.)

World Fenasco Shoot Boxing champion.

Mixed-Martial-Arts titles:

UTF Rings Rules (Shootfighting) Superfight champion
TFF Vale Tudo Superfight champion

Grappling titles:

Kamon European Brazilian Jiu-Jitsu open winner
UMA 'No Gi' Groundfighting Championships (Mens Masters Division Open Weight) winner

Grades & Awards:


Kakuto ( Combat ) Karate Black Belt - 8th Dan. ( B.C.K.A. )

Kickboxing Black belt - 8th Dan. ( W.K.A. )

Kudo Black belt - 2nd Dan. ( K.I.F. )

Ju-Jitsu Black belt - 3rd Dan. ( W.C.J.J.O )

Shin Karate Black belt - 1st Dan. ( A.M.A. )

Olympic Wrestling Coach ( B.A.W.A. )

Combat Magazine Hall of fame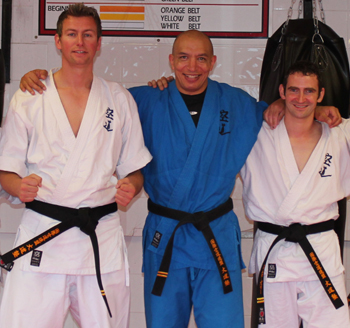 Neil Holden : Pictured left.
Kakuto-Karate ( 7th Dan ), KUDO ( 2nd Dan ).
Lee Hasdell : Pictured centre.
Kakuto-Karate ( 8th Dan ), KUDO ( 2nd Dan ).

David Eckersley : Pictured right.
Kakuto-Karate ( 6th Dan ), KUDO ( 2nd Dan ).


More Photos : Click Here