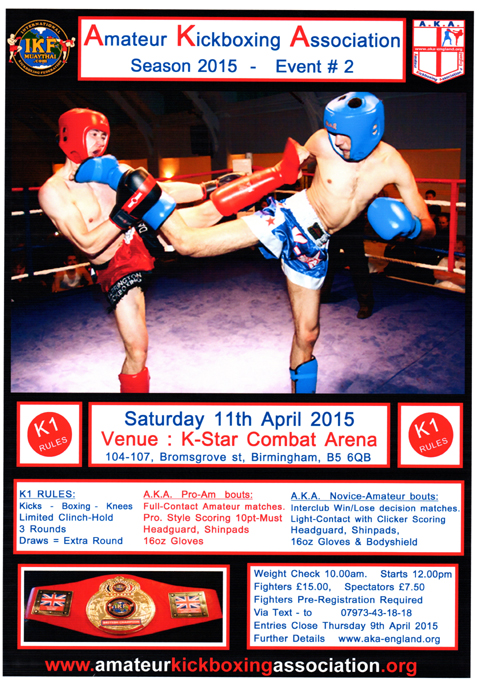 Are you a 'K1' / 'Oriental Rules', Amateur fighter?

Do you regularly enter 'Inter-Club Sparring-Days' and would like to step up to the next level?

If so, then A.K.A. Amateur Kickboxing Association events could be ideal for you!

A.K.A. 'Pro-Am' Format : Compete like a Professional with K.O. stoppages and using 'Pro. Style' Scoring Criteria ( 10 point Must system ) yet wearing Amateur Safety Equipment ( Headguard, Shinpads and 16oz Gloves ).

A.K.A. bouts are conducted under 'K1 Rules' This format is used Internationally by all of the major Kickboxing promotions such as 'K-1', 'GLORY', 'SuperKombat', 'KRUSH' and 'ENFUSION'.

'K1 Rules' are generally accepted as allowing Kicks and Punches and Knees with limited clinch holding. Bouts are three rounds and in the event of a draw decision the bouts extend into an extra round.

The titles for championships are co-sanctioned by the
A.K.A. ( Amateur Kickboxing Association ) with the
I.K.F. ( International Kickboxing Federation ).
2015 SEASON - EVENT #2 OFFICIAL EVENT DETAILS:
WHEN :
Saturday 11th April 2015.
WHERE :
K-STAR Combat Arena,
104-107 Bromsgrove St,
Birmingham,
B5 6QB.

WHAT:
I.K.F. Amateur Kickboxing.
FORMAT:
( Known in Europe ) : 'K1' ( Oriental Rules )
( Known in U.S.A. ) : 'K-1' ( M.T.R. : Modified Type Rules )
SCORING CRITERIA :
'Pro-Am' bouts : use 'Professional' style 10 point Must system.
'Novice-Amateur' bouts : using Olympic style ( Clicker ) Scoring.
RULES CRITERIA :
"K1 Rules"
KICKS, PUNCHES, KNEES ( LIMITED CLINCH ).
3 ROUNDS, DRAWS = EXTRA ROUND.
TITLE BOUTS ARE 5 ROUNDS.
WEIGHT DIVISIONS :
5 Kilo Spread between Ten weight divisions.
55kg, 60kg, 65kg, 70kg, 75kg, 80kg, 85kg, 90kg, 95kg, +95kg

A.K.A. EVENT ORGANISER / PROMOTER:
Mr Steve Logan
Telephone / Text : 07866-365-963
A.K.A. EVENT CO-ORDINATOR / I.K.F. Representative:
Mr Neil Holden – 07973-43-18-18
FURTHER A.K.A. EVENT DETAILS :
Weight Check: 10.00 a.m.
Start Time : 12.00 p.m.

HOW TO REGISTER :
Text to A.K.A. _07973-43-18-18_ with the following details
Full Name :
Age :
Weight Kgs :
Height :
Gym Name :
Trainer Name :
Format ( Either Novice-Amateur or Pro-Am ) :

FINAL DATE TO REGISTER :
Thursday 9th April.



Results ( with Photos ) - Previous A.K.A. events


Current Champions ( with Photos ) - CLICK HERE!