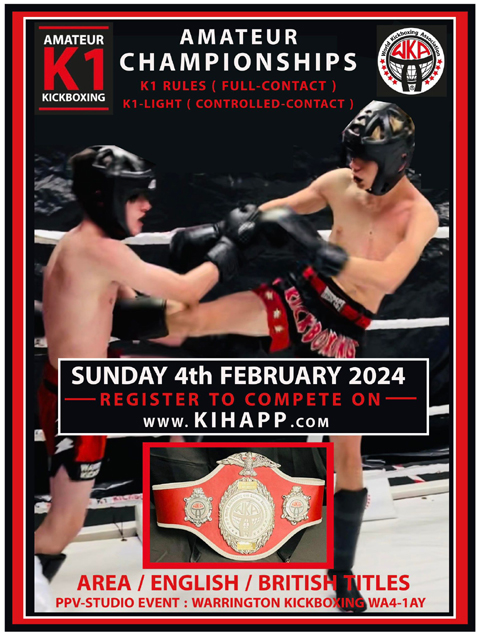 Are you a 'K1' / 'Oriental Rules', Amateur fighter?

Do you regularly enter 'Inter-Club Sparring-Days' and would like to step up to the next level?

If so, then A.K.A. Amateur Kickboxing Association events could be ideal for you!

'K1 Rules' are generally accepted as allowing Kicks and Punches and Knees with limited clinch holding. Bouts are three rounds and in the event of a draw decision the bouts extend into an extra round.

The titles for championships are co-sanctioned by the
A.K.A. ( Amateur Kickboxing Association ) with the
W.K.A. ( World Kickboxing Association ).
2024 SEASON - EVENT #1 OFFICIAL EVENT DETAILS:
WHEN :
Saturday 4th February 2024.
WHERE :
PPV-Studio Event,
Warrington Kickboxing,
Cheshire,
WA4 1AY.

RULES CRITERIA :
"K1 Rules"
KICKS, PUNCHES, KNEES ( LIMITED CLINCH ).
3 ROUNDS, DRAWS = EXTRA ROUND.
WEIGHT DIVISIONS :
5 Kilo Spread between Ten weight divisions.
55kg, 60kg, 65kg, 70kg, 75kg, 80kg, 85kg, 90kg, 95kg, +95kg

A.K.A. EVENT ORGANISER / W.K.A. PROMOTER:
Neil Holden,
Telephone / Text : 07973-43-18-18
FURTHER A.K.A. EVENT DETAILS :
Weight Check: 9.30 a.m.
Start Time : 11.00 a.m.

HOW TO REGISTER :
Text to A.K.A. _07973-43-18-18_ with the following details
Full Name :
Age :
Weight Kgs :
Height :
Gym Name :
Trainer Name :
Format ( Either Novice-Amateur or Pro-Am ) :

FINAL DATE TO REGISTER :
Wednesday 31st January 2024.



W.K.A. Champions ( with Photos ) - CLICK HERE!