The Oriental Style Rules Kickboxing format, is also commonly known as 'K-1' style 'KICKBOXING' rules.

Basically the these KICKBOXING rules, now being used Internationally adhere to the following basic 7 criteria.

If you attended a KICKBOXING event you would expect to see...
1. Kicks
2. Boxing
3. Knees - ( with limited clinch holding )

4. Standard bouts are Three rounds.
5. No 'DRAW' decisions are allowed, if there is a 'DRAW', then there is an extra round.

6. Kickboxing Competitors wear shorts.
7. Kickboxing bouts are in conducted in a Ring, and not a Cage or on the open mat.

If you are competing in a bout using this critera, then you are competing in a KICKBOXING contest, as now used Internationally by most major promotions, such as 'K-1', 'GLORY', 'Super-Kombat', 'KRUSH', 'Enfusion' ).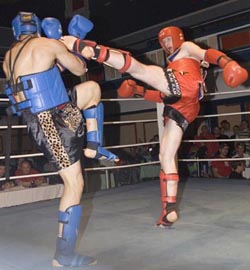 Pict:

I.K.F.
World Amateur Kickboxing Championship ( Super-Middleweight ).

Graham Sayer ( Warrington ) Champion

vs

Rajeet Singh ( India ).






K-1 was the original promotional company using these rules. Due to copyright, across Europe ' K-1 ' rules format has simply become known as 'KICKBOXING'.

Should you attend a Kickboxing Gala by one of the major promotions like...

K-1 ( Link to official website )

GLORY, ( Link to official website )

Super-Kombat ( Link to official website )

or

KRUSH ( Link to official website )


A.K.A. Kickboxing events are held under Oriental Style Rules ( also known as K-1 style Kickboxing format ). If you feel you would like to be an Amateur 'K-1 style' Kickboxer then why not enter the A.K.A. Championships!

The best Professional athletes in the World usually gain their initial experience in the Amateur ranks. Should you be interested in one day becoming a Professional Kickboxer and competing at the highest level on some of the worlds most succesfull events in Europe or Japan, then competing on A.K.A. events could give you an ideas place to start!

A.K.A. Kickboxing - Action Photos - CLICK HERE!