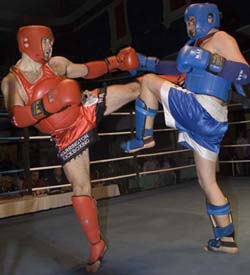 If you are an Instructor would like to become an official A.K.A. registered school, then please email us. We are a non-political association, and allow Instructors the complete independence to run their martial arts school without interference.

The A.K.A. is open to schools from All Styles of Kickboxing. Japanese Kickboxing ( K-1 ), Thai-Kickboxing ( Muaythai ), American Kickboxing ( Full-Contact ), Chinese Kickboxing ( Sanda ), French Kickboxing ( Savate ), Burmese Kickboxing ( Bando ).

Grade recognition/certification is through the A.K.A. Insurance and C.R.B. checks are arranged through the I.K.F.

A.K.A. Kickboxing - Action Photos - CLICK HERE!