There are a great many of practical applications that can be made from Kickboxing with regards to Self-Defence. Here is one of the very first basics a beginner will learn at the Warrington Kickboxing Studio.

The Front Kick :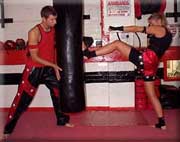 The 'Front Kick' - Practised on the kick-bag to develop real strength, as opposed to just kicking fresh air.
Under constant supervision to make sure you are executing the techniques correctly and also to help encourage you throughout the training session.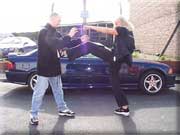 The 'Front Kick' - A practical Kickboxing technique which, as you can see, can be transferred from regular Kickboxing training for 'Fitness' and applied to 'Self-Defence'. Through kickboxing, strikes develop in to reflex action.




In this scenario Black Belt Kickboxer, Julie, uses her legs for defence as they are much longer than arms, giving a person an opportunity to handle someone from a safe distance - before they can get close enough to reach hold or punch you.

Situation training for Self-Defence : 3 Man setups!

The following is an example of 'Situation' training at Warrington Kickboxing Studio. Different setups are made whereby there maybe a person in front and a person behind you. Sometimes there are two people in front of you, or one person in front of you and one person to your left ( or right ) side. Then very timed drills are performed in short bursts to simulate the stress and duress of a possible confrontation.

This type of combat training is commonly known as combatives and gives a person a greater understanding of the self-defence applications of the techniques they may have been using during their fitness drills on the kickbags or during shadow-boxing routines.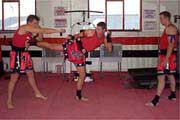 As the aggressor throws a punch, the defender in the middle executes a Back-kick. The legs are very strong weapons with the advantage of reaching a puncher before they are close enough to strike. This type of defence is called 'Intercepting' as you hit out at the same time that an opponent strikes.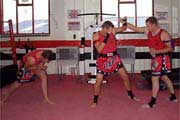 After thrusting out the Back-kick, the Kickboxer immediately places his foot down. This now sets him facing the second attacker. The attacker swings & the Kickboxer covers, using a Forearm-block as he himself moves in closer.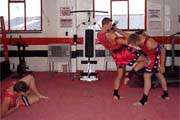 With the distance now closed the Kickboxer throws a 'Knee-Kick' strike to the groin dropping the attcker to the ground.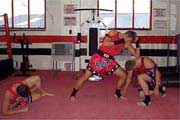 Finishing off the confrontation with a 'Downward Elbow' to the back!





SELF-DEFENCE / COMBATIVES:

Hand to Hand H2H
a book by Greg Thompson

Modern Army Combatives ( unarmed combat ) featuring Kickboxing Striking teachniques.




Please take a few minutes to visit each page of this website for lots of information about the Wolf Gym - Warrington Kickboxing Studio, and also about Kickboxing the Combat Sport & Martial Art.

To book in and activate £FREE trial session, please send a text stating "KICKBOXING ENQUIRY :"

and then add your

FULL NAME, your AGE and your EMAIL ADDRESS.

Please send the text to 07973-43-18-18, and a member of our team will contact you.