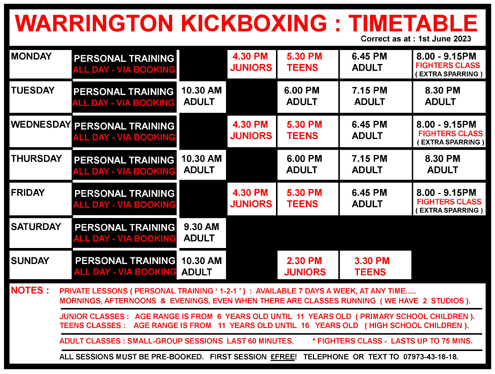 The Wolf-Gym has a total of 24 Classes a week on its timetable, as well as One-to-One Personal-training available 7 days a week,

All classes are setup to accomodate beginners, including the
FIGHTERS CLASS, ( which is Monday, Wednesday & Friday 7.30pm - 9.00pm ).

The FIGHTERS CLASS runs for 60 minutes, then for those members wanting extra sparring practise, ( or that have a fight coming up ), there is an additional / optional 30 minutes extended to the session.

Members who are on our Champions program, ( Fighters Class ), can then get upto 20 rounds of Sparring per week ( 1'000 rounds per year ).

There is no additional charge for the additional Sparring sessions.




| | | |
| --- | --- | --- |
| | | |

Please take a few minutes to visit each page of this website for lots of information about the Wolf Gym - Warrington Kickboxing Studio, and also about Kickboxing the Combat Sport & Martial Art.

To book in and activate a £FREE trial session...

...please send a text stating "WARRINGTON KICKBOXING:"

and then add your

FULL NAME, your AGE and your EMAIL ADDRESS.

Please send the text to 07973-43-18-18, and a member of our team will contact you.